Veranderingen aan uw vertrouwde internet omgeving blijven altijd wennen, maar kan je Internet Explorer 9 nog niet helemaal prettig vinden? Verwijder hem dan met een paar simplele handelingen.


Om Internet Explorer 9 te verwijderen, voer dan de volgende stappen uit:

1. Ga naar het configuratiescherm en klik onder Programma's op het Een programma verwijderen linkje

2. In de standaard lijst zul je Internet Explorer 9 niet vinden, dus klik in het linkermenu op Geinstalleerde updates weergeven om de updates weer te geven.

3. Scroll in de lijst totdat je het onderdeel Microsoft Windows ziet en klik op Windows Internet Explorer 9 link.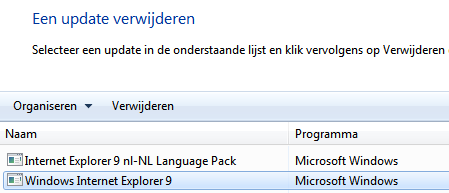 4. Klik op de button Verwijderen of klik met de rechtermuis op en kies voor verwijderen en Internet Explorer 9 zal verwijderd worden van het systeem.

Nadat de update verwijderd is zal Windows weer terug vallen op de browser voor de update (Internet Explorer 7 of 8).

Deze stappen werken op zowel Windows Vista en Windows 7.